Bonanza Golf Course, situated in the Bonanza Residential Community, North East of Lusaka (Zambia) offers a Peter Matkovich course, designed and signed by Louis Van Der Walt.
The course surrounded by 5-acre plots within the Bonanza Residential Community, also homes a social clubhouse, along with conferencing and function facilities, offering the perfect balance of golf, social and corporate opportunities.
What was initially a golf course that was referred to as a course designed in consultation with Peter Matkovich, was soon changed to a Peter Matkovich course, designed and signed by Louis Van Der Walt, after Peter came to Lusaka to open his course on 18 August 2017.
Bonanza Golf Course offers a peaceful environment, away from the hustle and bustle of the city, with the tranquil sounds of bird life and nature, away from the noise of city life and traffic in Lusaka.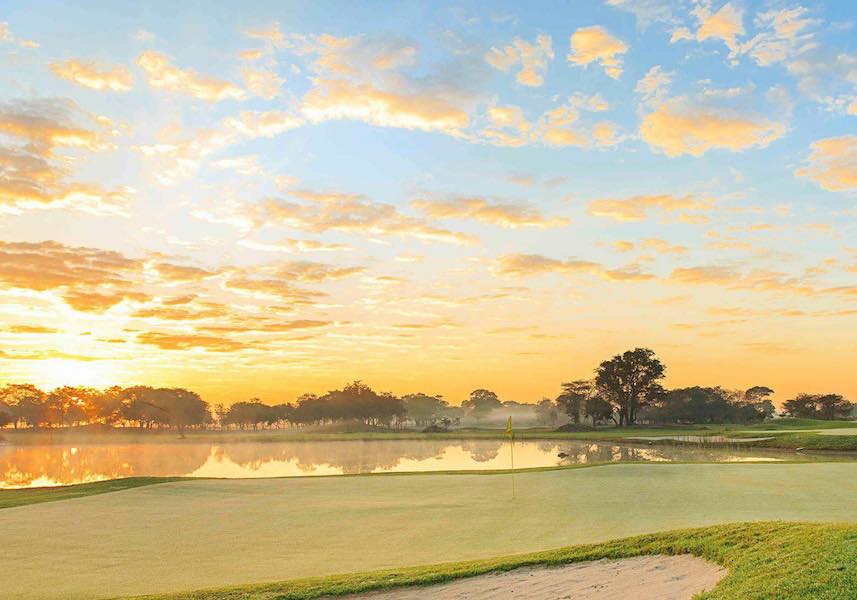 The course was created on a very gently sloped piece of old farm land, with great soil, beautiful mature trees, creating a truly African Bushveld feel. The course consists of two loops of nine holes, starting and finishing at the clubhouse, with each loop are also further broken into separate 3 hole and 6 hole stretches starting and finishing in close proximity to the clubhouse, providing the perfect opportunity for some early morning or late afternoon golf, on either 3 holes, 6 holes or nine holes.
The aim of the design was to provide a course which golfers could enjoy. Different tees providing a longer or shorter course, generous fairways, and interesting and challenging greens complexes, which can be set up to be very inviting and forgiving, or more challenging – a few typical "Sunday afternoon" tournament pin placements, protected by water or sand or some undulating contours. The course provides a great balance in length of holes, but with the focus on offering a fun course – short, medium and long holes require every club in your bag.
Greens on the course is planted with bent grass, providing smooth, gently contoured putting surfaces, while fairways and tees are planted with kikuyu – one of the nicest surfaces to play from in Africa.
Practice Facilities
Driving range
Putting green
Golf Club Amenities
Credit cards accepted
Clubhouse
Bar & restaurant
Proshop
Special & corporate events
Rentals
Buggy for hire
Weather forecast