Shinnecock Hills Golf Club, founded in 1891, is one of the historic golfing institutions in the United States. It is the oldest incorporated golf club and was one of the five founding member clubs of the USGA. The Clubhouse, built in 1892, remains substantially the same as a century ago.
The original twelve-hole golf course was designed by Willie Davis, and expanded to eighteen holes in the spring of 1895. These links were revised four times before the present course, designed by William Flynn and built by Dick Wilson of Toomey and Flynn, was opened for the 1931 season.
Shinnecock Hills Golf Club is a links-style golf club and has hosted the U.S. Open four times and is scheduled to host in both 2018 and 2026.
The course flows over natural rolling terrain and promotes its links layout with fescue grass and just a single water hazard. Many tout the back nine as the best back nine in golf, and if the finishing hole on the back nine were as good as the finishing hole on the front nine it would be tough to argue against it's absolute greatness. The fescue demands that you play from the fairway if you want any chance of posting a good score and taking advice from your caddy while on the greens will prove to be beneficial to understand the subtleties.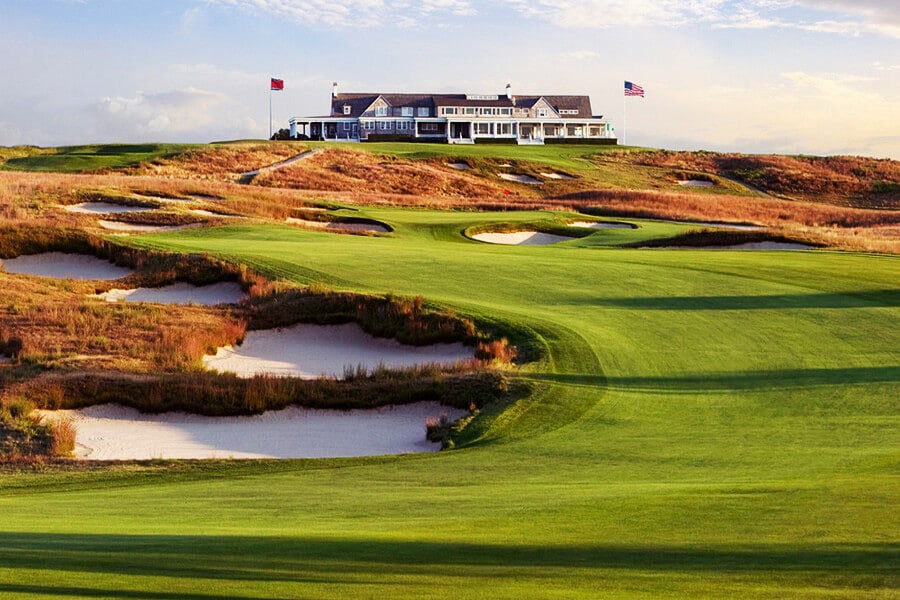 Signature Hole:  7th (Redan) Hole – 194 Yard Par 3 – The famous Redan hole at Shinnecock Hills is an icon for golf course architecture junkies. The small green tilts from right to left and proves to be the most difficult Redan we've played to date due to the small putting surface. During the 2004 U.S. Open this green was cursed by many of the players because it was so small and firm that players almost couldn't find a way to keep it on the green. As much of a signature piece as any hole on Shinnecock, the clubhouse is an exceptional display of architecture and golf history. The attractive structure houses an intimate locker room and boasts an impressive porch with expansive views across on of America's finest golf clubs.
Most difficult hole 14th (Thom's Eldow) Hole – 449 Yard Par 4 –This demanding hole hosts two features you will enjoy seeing; a downhill tee shot and an uphill approach. The fairway snakes beautifully through the fescue up a natural valley to a large green. This is the most natural, beautiful, and difficult hole at Shinnecock.
You want to play at Shinnecock Hills Golf Club ?
Shinnecock Hills Golf Club is a private club. All guests must be signed in by an accompanying member, at the front desk before play. So if you 're not a member or if you don't know a member it will be impossible.
Note that Shinnecock Hills Golf Club was the first golf club in the United States to admit women.
Practice Facilities
Driving range
Putting Green
Pitching Green
Golf tuition
Golf Club Amenities
Clubhouse
Restaurant
Pitching Green
Rentals
Trolley for hire
Buggy for hire
Weather forecast