Designed by PGA Tour star Davis Love III and opened in 2000, the course at Shell Landing Golf Club tops our list of public facilities golf inMississippi. The combination of a challenging layout, beautiful views and a first-class staff gives Shell Landing what Champions Tourgolfer Jim Gallagher Jr. calls "a private course feel with public access."
The diverse terrain adds to the experience. Cut through pines, rolling hills, bayous and marshland, the course offers a different view on nearly every hole. Large, undulating greens allow for plenty of pin placements, and a first-class practice facility backed by a staff that includes three PGA professionals. Shell Landing Golf Club is a great public golf course in Mississippi.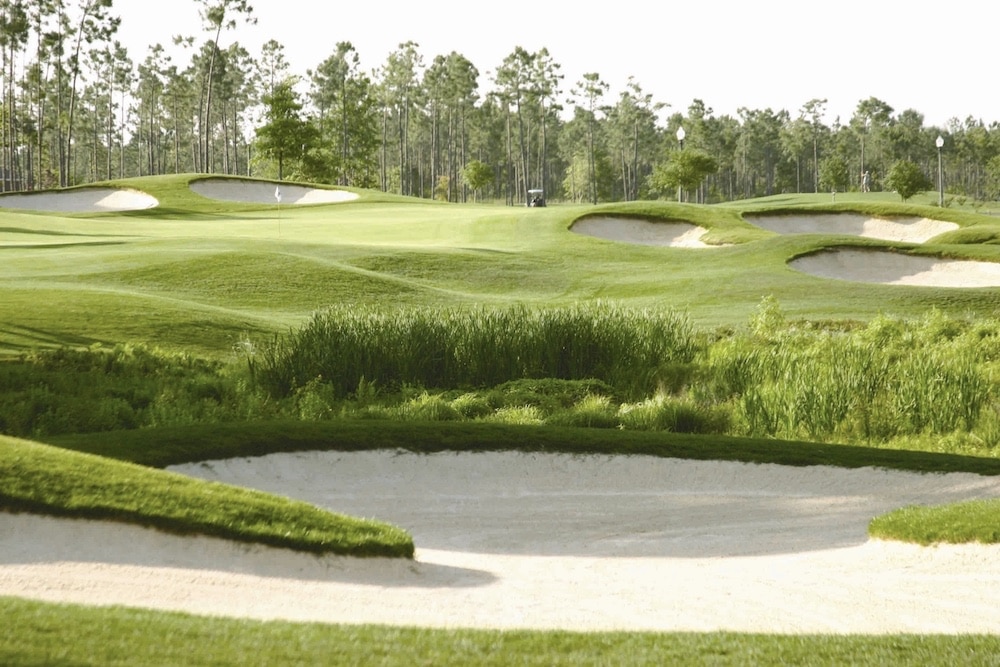 The 1st hole doglegs around the trees and from there the course has a nice stretch of secluded holes that work their way through the marsh and pines. The 3rd is a par 5 where the layup is the most important shot as it sets up an approach to the green which is over water. The 4th is a 367 yard par 4 and it has a waste bunker down the left side.
The 6th, a 412 yard par 4, is one of the two signature holes as it has a forced carry to the fairway guarded by marsh all down the left side of the hole to the green. The 7th is a short par 5 that is a good risk/reward hole. The fairway pinches the farther someone hits the tee shot and there is a hazard that could come into play if someone is going for the green in two. The 8th is the first of two 220+ yard par 3's, and while long, it still allowed someone a chance to hit the massive green and earn a par with a two putt.
The 10th is a 394 yard par 4 with an approach that is played over some high mounds in the fairway. The mounds block the view of the green. The 11th is a 220 yard par 3 with another large green. There is plenty of room to miss and the green has a five foot rise to a back tier. There is some slope behind the back tier which allows someone to get creative to get it close. The other par 3 on the back, the 17th, is the other signature hole. The hole is 193 yards and plays over the marsh to a green framed by pine trees and bunkers.
Practice Facilities
Driving range
Putting Green
Golf lessons
Golf Club Amenities
Credit card accepted
Clubhouse
Restaurant
Proshoph
Rentals
Golf cart for hire
Weather forecast