Royal Cinque Ports is a Championship Links course of the highest standard with a classic out and back layout founded in 1892. Located in the south east corner of England it offers superb golf all year round. Its fast rolling fairways and superb greens have stood the test of time and provide a stiff challenge to lovers of links golf. In a prevailing wind, the last seven holes at Deal are reputed to be amongst the toughest in golf.
Royal Cinque Ports hosted The Open Championship (British Open)  in 1909 and 1920. Two more were scheduled for 1938 and 1949, but both were relocated when abnormally high tides inundated the course; both were held at nearby Royal St George's
From the yellow tees it is a pleasant 6.500 yards, par 71 with 3 par 3s, 2 par 5s and an abundance of par 4s.  It is a classic out and back course with the first in front of the clubhouse playing to the south before turning along the shore for holes 2-10 (normally with then wind) and then turning into the prevailing breeze for 11-18.  Right on the coast, it is probably rare to find Cinque Ports on a calm day and the yardages on the card will only count for so much.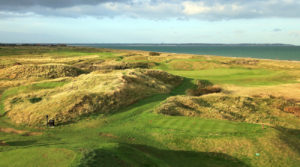 The course doesn't have much in the way of views, and in some ways can be slightly bleak as you don't get to see the sea but a large bank which borders the English Channel but it really is good, classic links golf here.  There is nothing tricked up about the course but there are some obstacles to navigate such as the burn on 1 and 18 and the greens have some real swales.
The clubhouse at Royal Cinque Ports Golf Club is everything you would ever want in an English "Royal" club, classic but friendly, with a superb upstairs bar overlooking the Royal Cinque Ports course. The balcony on the clubhouse provides a commanding view over the course and channel and you can still see the damage done to the flagpole from aircraft attacks on WW2.
And If you go to Royal Cinque Ports don't forget that you have to pronounce 'Sink' port.
Practice Facilities
Practice
Putting green
Golf Academy
Golf Club Amenities
Credit card accepted
Clubhouse
Restaurant
Rentals
Trolley for hire
Weather forecast