Located on the doorstep of downtown Singapore, Keppel Club does a marvellous job of fusing the external city environment with a wonderfully natural, challenging and well-designed golf course. City and jungle sounds are heard in equal measure.
Keppel Club is one of oldest golf in Singapore. It is likely the golf course started as a 3-hole layout in a nutmeg plantation, probably created around 1900 (before its official founding in 1904). It became a nine-hole course around 1908, extended to 18 in 1977. The club takes its name from Sir Henry Keppel, a British naval officer, who made a name for himself in the suppression of piracy in the Straights of Singapore while commander of HMS Dido. He later became an Admiral of the Fleet. One of the Club's many claims to fame is the former existence of its unique golf-bag mono-rail system. Before the days of buggies, when caddies were also scarce, Keppel introduced the mono-cart system to transport your clubs alongside each hole from "station-to-station". It was considered an effective way to lighten the burden of carrying one's own clubs around this quite hilly layout. The system was in operation from 1996 until 2004; now only a few sections of rail and occasional "stations" can be seen. Often in view from the course are the jungle clad slopes of Labrador Park.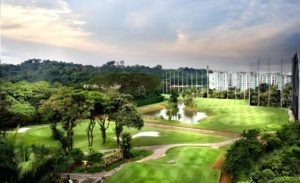 The golfing challenge at Keppel Club comes from the course's tightness and its often pronounced elevation changes. The opener beautifully encapsulates the test ahead. Played from an elevated tee, this shortish par-4 is characterised by the quality of its design and appearance; the fairway is tight, the bunkering top-class, and a large, stylish apartment block provides the backdrop to the green. On this well presented layout, OB or thick vegetation often lines one side of the hole, while things may be more forgiving on the other side, unless water is present. Small lakes and ponds come into play on several holes.
The most natural stretch of the course features the tight par-5 9th (known as the Berlayer hole), with the Berlayer creek skirting the entire right side of the hole : this tidal creek and natural mango swamp, flows out into Keppel Harbour, just a few metres beyond the clubhouse. With a few blind drives and approach shots to make, occasionally a traffic light system is employed to ensure you are not hitting into the group in front.
The often quite small two-tier greens are elegantly contoured and usually defended by good bunkering. Given its tightness (breathlessly so at the par-4 17th) this challenging layout does not provide an easy-going outing for wayward hitters nor higher handicappers. It is however, one of the hidden gems of Singapore golf, and well worth a visit.
Note that Golf course is closed on Mondays for maintenance.  If a public holiday falls on a Monday, maintenance will be carried out on Tuesday.
Practice Facilities
Driving range
Putting Green
Golf Club Amenities
Credit card accepted
Clubhouse
Restaurant
Tennis
Swimming pool
Fitness
Rentals
Weather forecast