Hawk's Landing Golf Club spans over 220 acres of lush grounds at Orlando, Florida's premier Resort, Orlando World Center Marriott Resort.
The 18-Hole Championship Golf Course was designed by noted golf architect Robert Cupp Jr., to create the perfect setting for challenging golf and a scenic blend of native Florida wildlife and tropical vegetation.
The course is in a very busy section of Orlando and not a course that I would recommend if someone is looking for peace and quiet. The front nine runs away from the hotel towards I-4 and then works its way back to the hotel before the back nine has a few holes that play through some vacation condos.
The course actually starts out with tough holes and before getting a little easier. The 1st is a 426 yard (black) par 4 where the tee shot is played to the corner of the dogleg (except for the big hitters who can carry the bunkers) and you will need a long iron into the green. The 2nd is a 182 yard par 3 which needs another long iron before the 3rd plays as a 387 yard par 4. The distance isn't the big concern on the 3rd, but the hole puts an emphasis on accuracy. The tee shot has water right.
The 4th is a 535 yard par 5 that moves right around some condos and it seemed that they could easily come into play with a slice. The fairway is split into sections and there is water in play on every shot.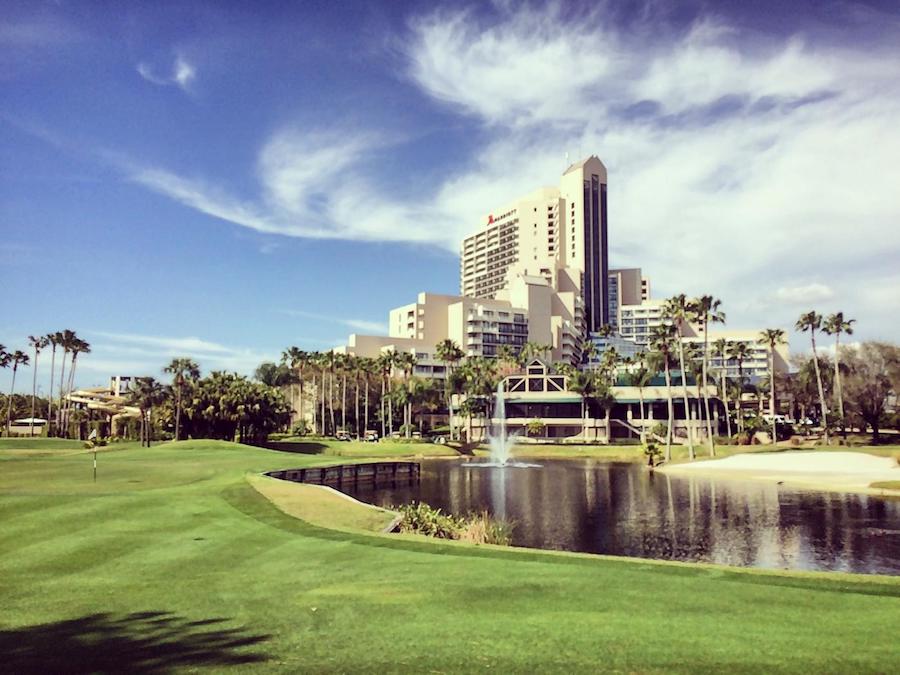 The course allows for some birdie holes once getting to the 5th before there are some fun holes on the back nine. The 11th is a 390 yard par 4 with some water that comes into play on the 2nd shot, but it offered a place to miss left of the green. The 12th is a par 4 with a big forced carry and has a waste bunker down the left side which could catch balls before they go into the water. The next hole of note is the 15th which is a 142 yard par 3 with water left of the green. The 18th is a long par 5 (565 yards) which needs a 3rd shot judged perfectly on the distance to get it on the shallow green.
Practice Facilities
Driving range
Putting green
Pitching area
Golf tuition
Golf Club Amenities
Credit card accepted
Clubhouse
Restaurant
Rentals
Trolley for hire
Buggy for hire
Weather forecast