Guavaberry Golf & Country Club is one of the best inland courses in the Dominican Republic, located as it is a mile and a half from the Caribbean Sea, and it's a challenging 18-hole layout that Gary Player Design completed in 2003.
Holes are routed in two 9-hole loops through native vegetation over a flattish landscape where indigenous coral rock formations sometimes rear up from the fairways. Playing corridors are generally wide with some of them flanked by discrete elements of housing. Some holes demand great precision, short game of sticks to avoid a high score and still others that promise birdie. The greens are successful for such a young field, as is the case with fields in this environment should be more consistent over time.
The course is characterised by a strong collection of par fours, the most notable of which are the left doglegged 6th, the 439-yard 16th and the 466-yard home hole.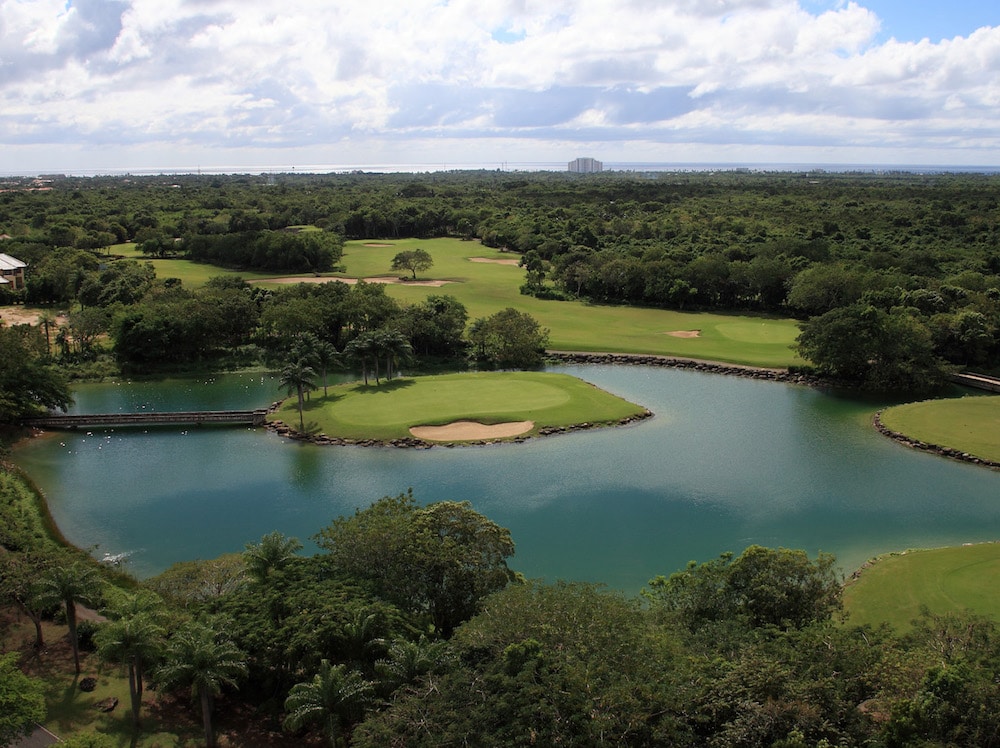 Golfers encounter one of the most conspicuous holes in all of the Caribbean at the 146-yard 13th (Signature hole) where alternate greens are divided by – of all things – a 15-foot waterfall. Two holes later, you'll find another extravagant par three when they play to a rock-lined island green at the 155-yard 15th.
The Hole 18th, a 482 yards Par 4, is one of the most challenging finishing holes you'll have ever played. It features one of the most unique hazards ever designed. From the tee, golfers will notice a large area of exposed coral rock to the right that was pushed off the ocean floor some 200,000 years ago.
If golfers are successful in landing the ball on the grass in the center of the landing area – which also slopes towards the coral – they have a shot of approximately 200 yards over the natural rock hazard the separates the landing area from the green.
If you play Guavaberry Golf & Country Club  for the first time the use of caddies is compulsory.
Practice Facilities
Driving range
Putting green
Golf Club Amenities
Credit cards accepted
Clubhouse
Bar & restaurant
Proshop
Beach club
Swimming pool
Horse riding
Rentals
Caddies available
Weather forecast