Golf des Baux de Provence or The Golf of Domaine de Manville, located at Baux-de-Provence, the 1st 18 hole eco-certified golf course in the P.A.C.A. region, welcomes you daily from Monday through Sunday.
Domaine de Manville offers an exceptional 18 hole golf course for an unforgettable golf holiday in Provence.The golf course of the hotel complies with the constraints inherent in a protected region and even goes beyond those constraints. As beautiful as an olive grove, as alive as a vineyard, the course creates a series of connected spaces that enhance biodiversity and are conducive to local flora and fauna.
New yet already timeless, the Domaine de Manville golf course is a French government-certified exemplary golf course.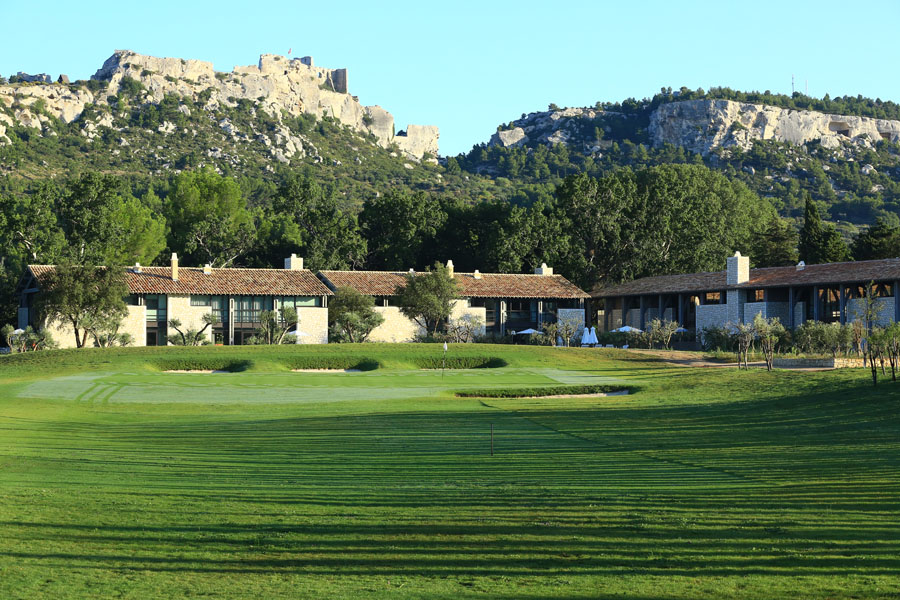 Character-filled golf course designed by Thierry Sprecher and Anne-Laure Ricci – Ateliers Pep's. Course elements echo the former agricultural use of the land, geometric bunkers supported by stone walls, the shape of the greens, grassy rather than sandy bunkers, fairways bordered like former fields, olive groves and water obstacles… The Domaine de Manville course appeals. The balanced, moving course evokes many different sensations. A good technical course with great diversity in the design of each hole.
5502 meters long, it suits every playing level.

Combining the game with the splendour of the scenery to perfection, Domaine de Manville golf course is a one-of-a-kind place where the rock has been left intact, there is still the garrigue and biodiversity can develop undisturbed. Pine and oak forests border vast green plains that offer an unrestricted view of the Chateau des Baux and the vines of Mas Sainte Berthe. Inspired by the staggering surrounding natural environment, the Manville golf course takes the observer to a rural daydream, offering an unforgettable experience in Les Baux-de-Provence's beautiful region. The golf course, which is 6017 yards in length, is adapted to all levels…

Note that during the winter period, the golf close at 5pm.
Practice Facilities
Practice
Putting Green
Golf Club Amenities
Credit card accepted
Clubhouse
Bar & restaurant
Proshop
Spa
Rentals
Clubs for hire
Trolley for hire
Electro-cart for hire
Weather forecast