Fishers Island Club is set romantically on a narrow island that is a mere two miles wide and eight miles long. The island sits between the National Estuary of the Long Island Sound and a series of lakes and ponds. It's a magnificent watershed where saltwater meets freshwater and it's a diverse haven for plant and animal life. The course is rather heavenly too, offering the most beautiful and natural water views from virtually every hole.
The club was founded in 1927 and Seth Raynor laid out the golf course in a rather links-like style. With numerous stage-like plateaux greens that are protected by cavernous bunkers, the key to scoring well rests with accurate approach play. The members believe that the only way to play Fishers is with the wind blowing salty sea air in your face. Golf Digest rated Fishers Island Club #10 of the best courses in the country in 2014.
Fishers Island Club measures 6,566 yards from the tips so length is not the issue, the essential element is to keep the ball in play. The rough is brutal and, as we have already mentioned, the bunkering is profound and often penal. Fishers Island is not the easiest course on which to get a game – you'll need to befriend a member – but stick with it because this is one of the finest and most enjoyable golf courses in the world.
Most difficult hole at Fishers Island Club
The 14th hole is unquestionably deserving of the number one handicap rating. Positioning in the fairway is crucial in order to have a manageable angle and length into the green. The design is a great use of the land in this area of the course. Legend has it that people have taken drives straight at this green over the water. It would take one hell of a carry. You can shot your range finder across the lake. It would take a 340 yard carry to cross the water from the back tees.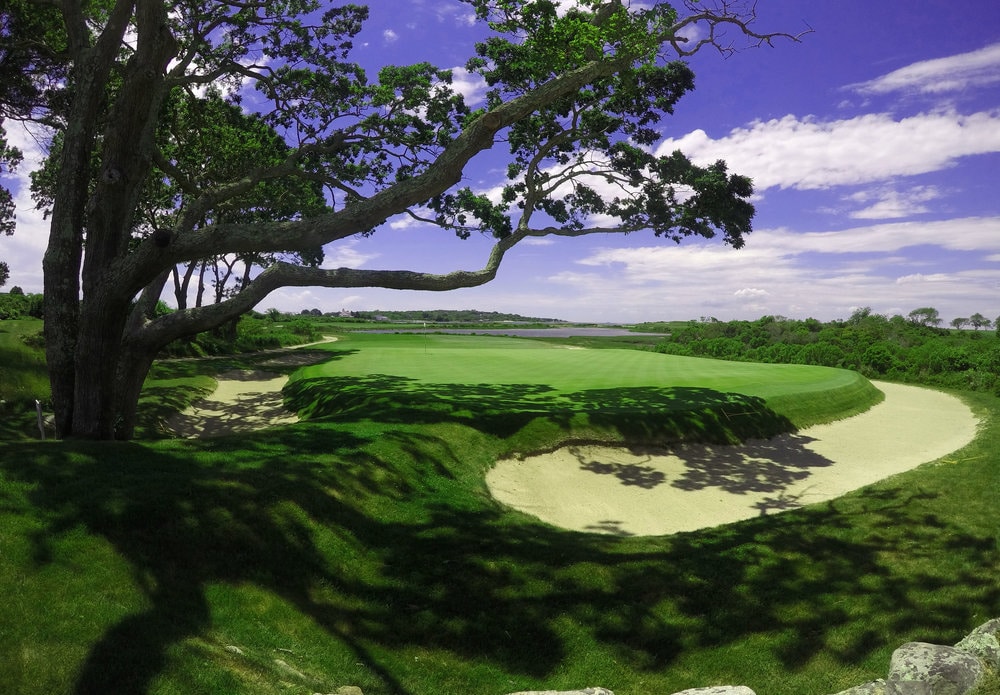 Best hole at Fishers Island Golf Club
The 4th hole was one of our favorites on the golf course. It is a blind approach and reminded us of Prestwick Golf Club's 17th hole, the "Alps." The sheer size of the green is striking. The green truly is a bowl, and if you miss the bowl, a heavy price is to be paid.
Practice Facilities
Driving range
Putting green
Golf Club Amenities
Club accepts credit cards
Clubhouse
Bar & restaurant
Proshop
Tennis
Beach club
Rentals
Clubs for hire
Weather forecast