Culpeper Country Club is about 45 miles north of Charlottesville on the way to Washington. Country Club of Culpeper is technically private, but it does allow some public play. The golf course is an 18 hole PGA golf course, 6026 yards long, with a 121 slope and rating of 66.8. The original 9 holes built in 1954 was lengthened to a full 18 in 1993 with notable Mid-Atlantic golf course designer, Brian Ault, completing the expansion.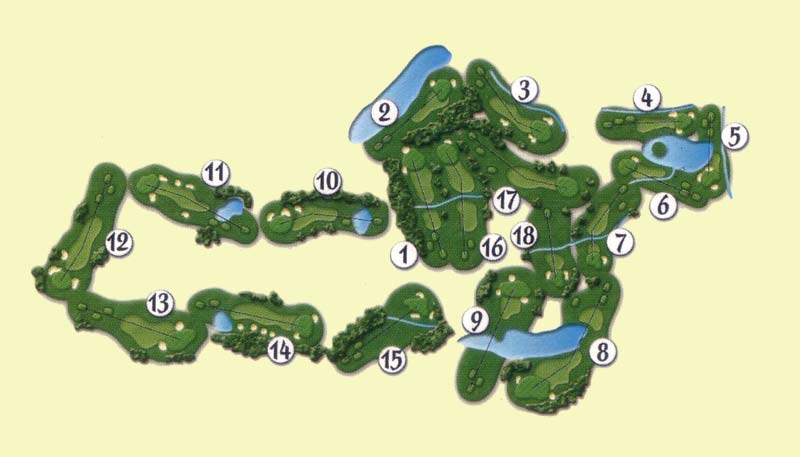 The course starts out with the shortest par 5 so it is a pretty easy start. The main thing to note is that there is a creek that cuts across the fairway at 240 to 250 yards from the tee. The longer hitters can probably carry the creek and have a short iron into the green, but I wasn't feeling that desperate on the first tee. The second or third shot plays severely uphill to a small green that slopes from right to left. Anything down the left side of the hole could end up out of bounds.
Hole 3rd ( par 5 ) is another good chance for birdie as it plays from an elevated tee box. The tee box is by the lake, just over the 2nd green. There is trouble all down the left side, but plenty of room to miss to the right and find the ball. A good tee shot can leave a chance to go for the green in two.
Hole 7th is the hardest hole on the course. The hole plays straight and then turns left and climbs a hill. The best play it is to leave 150 yards into the green and favor the center or right side of the fairway. Anything down the left side off the tee can get blocked out if someone doesn't hit it far enough. The green has a false front so the approach or a chip will need to carry that.
Hole 15th is a pretty par 3 that plays slightly downhill. The green is divided by a ridge in the middle of it so any flag to the left of it sits in a bowl while anything to the right is going to be a little tougher to get close.
The closing hole is an uphill par 3. It's one of those hole where you just have to aim at the flag and hope that there is green somewhere up there. The green is small.
Practice Facilities
Driving range
Putting green
Golf tuition
Golf Club Amenities
Credit card accepted
Clubhouse
Restaurant
Proshop
Weddings & Special events
Tennis
Swimming pool
Fitness center
Rentals
Weather forecast