Burnham & Berrow Golf Club was formed in 1890 when a nine-hole golf course was laid out on a strip of land known as the Warren between the prosperous town of Burnham and the relatively poor village of Berrow.
The club's first professional was the legendary J.H. Taylor. The development of the golf course has been considerable down the years and just about every one of the leading golf course designers has had an input into the golf course architecture. Herbert Fowler and Hugh Alison were members of Burnham and both had had an important part to play in improving the links as did Harold Hilton and Dr. Alister MacKenzie though the shape of today's course is mainly due to Harry Colt.
Todays the championship course is a 18 hole Par 71. From the 1st Tee shot you know you are somewhere special! The Course is laid out in the traditional manner with nine holes out and nine back. Handicap Limit 22 Men/30 Ladies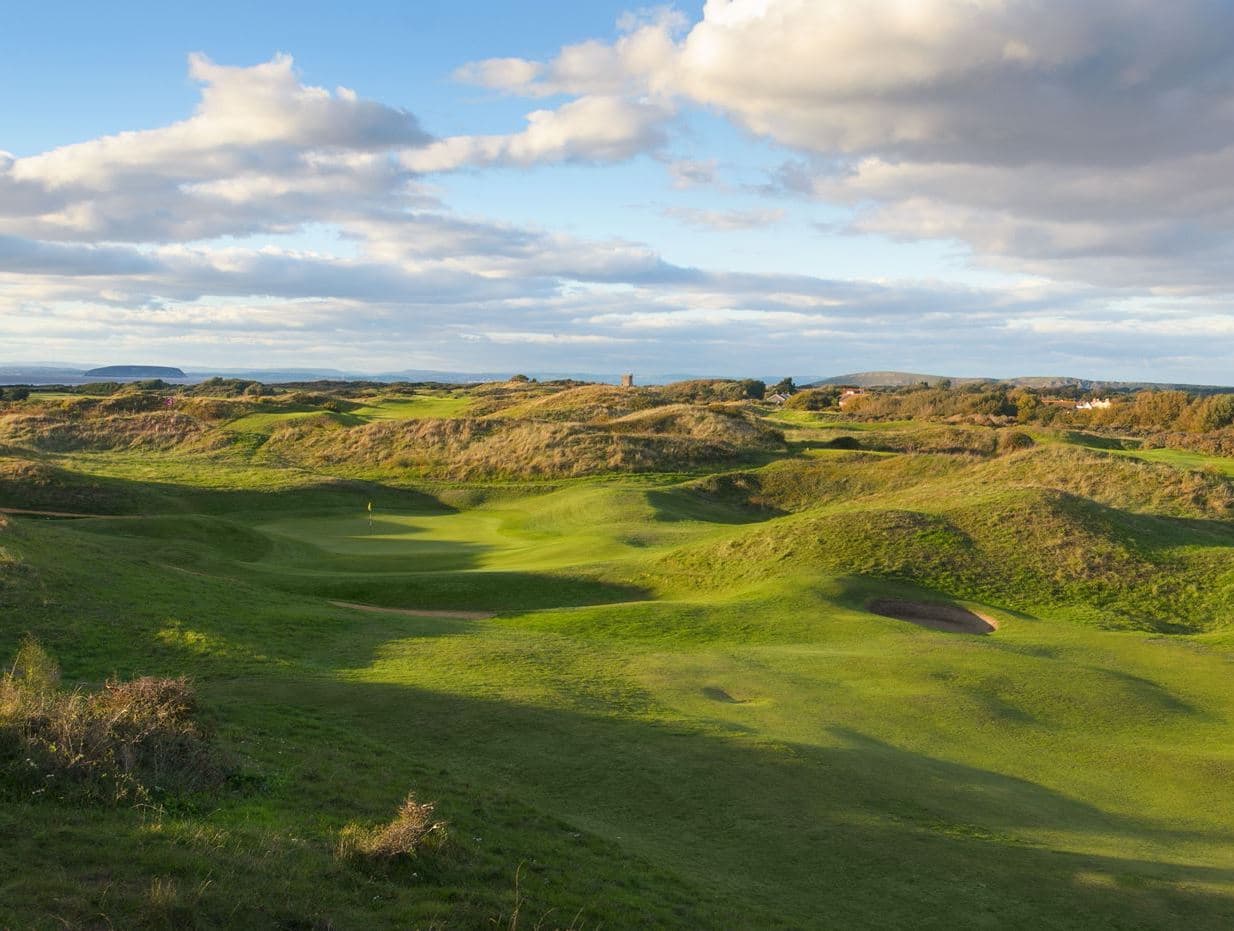 There is a church in the middle of the course and that in itself is unusual. Consequently over the years, changes have been made to the layout ensure that the faithful congregation does not get injured by wayward shots; additionally, some of the blind drives have been designed out.
Burnham & Berrow Golf Club is a traditional out-and-back links course and as per Darwin's introduction, taken from his 1910 book, The Golf Courses of the British Isles, Burnham is "ringed round with sandhills", gigantic ones too. It's a challenging layout with the tumbling fairways laid out in narrow valleys, protected by deep pot-bunkers and thick rough. The greens are fairly small, requiring precision approach shots and once you are on the putting surface, the fun really begins. Burnham's undulating, slick greens are amongst the very best in the British Isles.
There are many notable and varied holes at Burnham, with a strong collection of par threes. The first six holes are especially good and the back nine is magnificent. Burnham & Berrow closes with a classic 18th, one of the best finishing holes in golf, a dogleg left over dunes and an intimidating long second shot across another ridge of dunes towards a green protected by deep threatening pot-bunkers.
Burnham & Berrow Golf Club also offers a 9 hole Par 35 golf course. One of the hidden jewels of the South West, the Channel Course offers a wonderful introduction to Links Golf to everyone, from beginners to the most serious golfer. The excellent condition of the Course, means that you can enjoy a golfing challenge all year round.  Please see our society package offers.
Burnham has hosted the English Mens and Ladies Amateur Championships, the British Boys Championship, the Tillman Trophy the PGA Seniors Championship and other important events such as the annual West of England Open Amateur Championship, annually played at Burnham.
Practice Facilities
Driving range
Putting green
Short game area
Golf tuition
Golf Club Amenities
Junior discount
Credit cards accepted
Clubhouse
Bar & restaurant
Proshop
Rentals
Trolley for hire
Buggy for hire
Weather forecast