Located on the east cost of the beautiful Caribbean Island of The Dominican Republic, Barcelo Bavaro Grand Resort invites you to enjoy the first golf course ever built in the Bavaro / Punta Cana area over 20 years a go. Re-design by renowned acquitted Pete Dye in 2010 this Championship golf course keep his original essence, the rolling fairways that traverses trough a lush mangrove forest, with 25 inland lakes and 122 strategically positioned bunkers, the golf course capitalizes on the natural beauty of the Bávaro area, incorporating native plants and species, around it's meticulously manicured greens providing you best playing surface with the highest industry standards.
The routing of the course stayed essentially the same, with a counter-clockwise front-nine loop and clockwise back-nine loop. However, P.B. Dye's redesign dramatically improved the green surrounds, mounding and bunkering, and overall look of this layout, without detracting from its abundant naturalness and degree of golfing challenge. Your A-game will be needed to score well at Barcelo. Apart from the easy-going par-4 1st and the seriously water-defended par-4 8th and par-5 9th, you spend much of the front-nine threading your ball through an attractive and wonderfully natural area of tropical forest. Anything hit too far offline risks disappearing into dense, jungle-like vegetation, unless the impressively large deciduous trees help the ball back into play. The most difficult par four on the front nine is the 3rd hole. This long hole wit a cross wind from left to right and a wide fairway with a lot of undulation, your tee shot need to be well located either on the center or on the right so you can have a clear shot in to the not very wide but deep green, the left side of the fairway is guarded by a huge tree that will block any attempt to reach the green in two shots. The medium size green is protected by a bunker on the front left and a landing area behind it, the right side has a waste area and a bunker.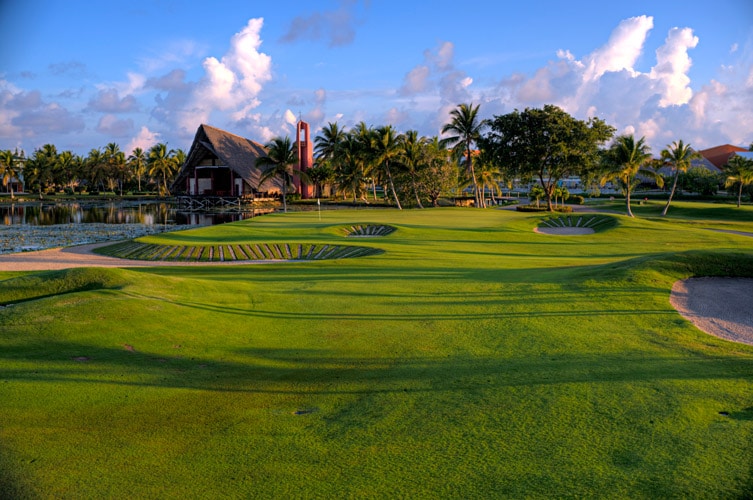 The back-nine at Barcelo Bavaro is less heavily tree-lined, but water threatens on several holes. The par-5 17th and par-4 18th, like the closing duo on the outward-nine, dangerously hug the side of Barcelo's largest lake, making for another testing finish. Although just 200 metres from the ocean (at the nearest point), you'll not be distracted by sea views, but can stay firmly concentrated on this enjoyable, testing and very natural layout.
Practice Facilities
Driving range
Putting green
Golf lessons
Golf Club Amenities
Credit cards accepted
Clubhouse
Restaurant
Proshop
Swimming pool
Rentals
Clubs for hire
Buggy for hire
Weather forecast