Ayer Keroh Country Club was carved out of virgin jungle and opened for play in 1964. It was designed by a team led by Tun Abdul Ghaffar Bin Baba, the former Deputy Prime Minister of Malaysia, Chief Minister of Malacca, and a golfing aficionado. The Malacca golf course is located right off the north-south highway and even has its own interchange.  Ayer Keroh golf has hosted a number of major professional golf tournaments, the most prestigious being the 1989 Malaysian Open.
Ayer Keroh Country Club is well laid out, attractive and challenging. The original course consisted of two nines, known as Tunku's and Ghaffar's nines. A third nine (Governor's) was added in the mid-1990's. The three nines hug a lake known as the Ayer Keroh Lake which comes into play on quite a few holes.  The course has matured well and stands a testament to what can be done with the right support and attention to detail.
Of the three nine-hole loops, the Governor's and Tunku's provide the best combination and play in a natural jungle-lined environment.  Maintenance is top notch with fairways a joy to hit from. Most holes are well defined with thick vegetation and many trees lining the fairways and occasionally in the middle of them. However, sand is only used sparsely used at this Malaysia golf course and those areas where it is present are almost always in the form of greenside bunkers.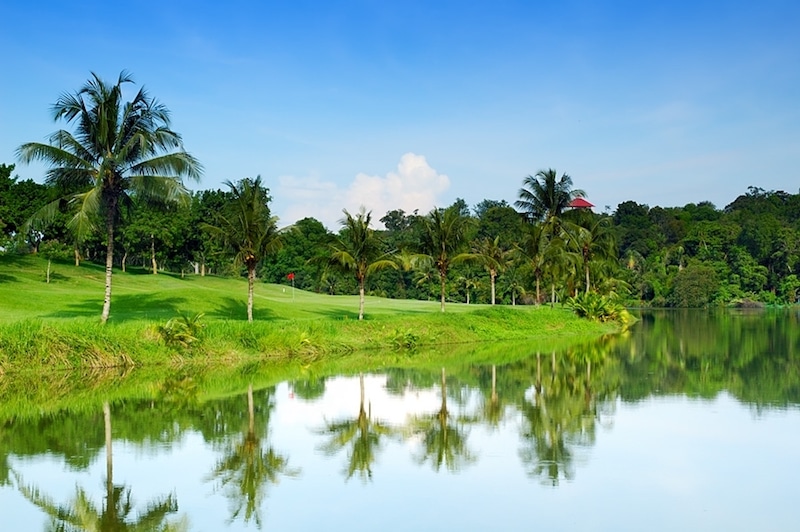 Ayer Keroh Country Club has its fair share of obstacles at strategic places, but the course is notorious for the jungle that lines both sides of almost every fairway and unmercifully punishes each and every wayward shot. On a few holes the tee-shots will feel quite tight (especially on Ghaffar's nine), although more breathing space and a slightly more open aspect also features in the layout.
The forests and tall trees give a sense of coolness to Ayer Keroh. This very pleasant and quiet area of  jungle contains many elevation changes which provide considerable charm and variety to each hole. The undulations on the golf course are mirrored in the contouring of the greens, with some slopes as testing and slippery as they come.  Of the many memorable holes is the dogleg 6th, where a perfect drive will land you in the jungle.  The final test comes at the long par-5 closing hole on Tunku's nine, a mere 604 meters and one of the longest par-5's in Malaysia.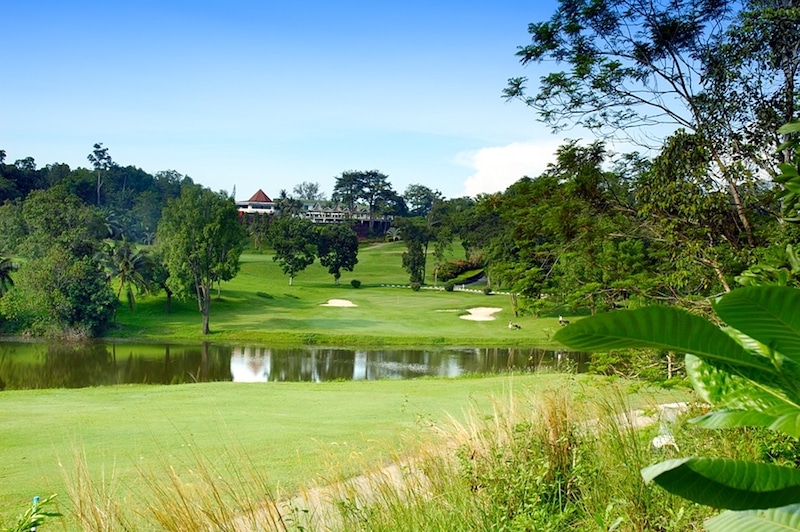 The Malacca golf course is home to troops of macaque and dusky-leaf monkeys so caution should be observed if straying too far from one's valuables. Caddies are available and usually assigned one per foursome. They are very helpful when reading putts and judging distances.
With good maintenance throughout and many beautifully jungle-lined holes, don't miss out on Ayer Keroh when golfing in Malacca! Ayer Keroh is really nice to play.
Practice Facilities
Driving range
Putting green
Golf Club Amenities
Credit card accepted
Clubhouse
Restaurant
Swimming Pool
Rentals
Golf cart for hire
Weather forecast